Sharon Strodl


Sharon and her husband Jon came to Kristen for help getting ready for the IM 70.3 in Kona. We started working together in November and I promised she'd have a smile on her face at the finish in May. The smile hasn't disappeared yet! She has gone on to PR in many triathlons and have a fun and enjoyable fall marathon. 2015 was officially a prep year for an Ironman in 2016. Sharon tore up the Lake Placid Ironman course in July 2016. The week following the race she was already planning her fall calendar. in 2018 Sharon will head to Mont Tremblant for the 70.3 and then back to Lake Placid for the 140.6.

---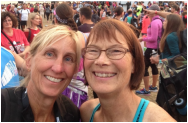 Virginia Touhey
Virginia trained with Kristen for her first Ironman in Lake Placid where she race walked the marathon course. In 2016 she decided to go back to running and back to Lake Placid. Virginia focused a lot on strength and her running. In both she made phenomenal progress. She headed off to Ironman Mont Tremblant ready to conquer the course. Mother nature decided to throw the athletes a curve ball - it rained heavily the entire bike ride. So while she didn't have a PR Virginia did have a tremendous day. Heading in to the event she had thought about hanging up her running shoes - after she is looking to Lake Placid 70.3 in 2017. Also to her credit she lost 20 pounds and gained muscle in her 60th year!


---
Tracy Perry


Tracy has accomplished a ton in the duathlon world over the course of the past couple of seasons. In 2013 she qualified for Duathlon Worlds. In August I went up to cheer her on. Where do you go after participating on Worlds? Well the idea was to retire, but that is on the back burner now. In 2015 she will be honed her cycling skills. She is certified as a USA Cycling coach and works with Kristen to deliver cycling clinics and classes for Upstate Warriors and area cyclists.

---
Nanette Hatch


Nanette has done numerous marathons and jumped into triathlon with both feet. Right off the bat she was placing in her age group at many area triathlons. 2015 the focus became Ironman Lake Placid. After a fun run at the Paris Marathon she prepped for a fantastic and fun Ironman experience. Nanette is one of those athletes who lifts the spirits of everyone around her. There is never a picture without a smile and the 140.6 miles of Lake Placid were no different. After having that much fun at IM it wasn't surprising that Nanette signed up for IMLP 2016! She conquered the course once again - smiling the whole way. Now it is back to placing in her age group and potential world domination! Nanette will be racing the Ironman Mont Tremblant 70.3 in June and then 140.6 in Lake Placid in July.

---
Olya Prevo
Olya's focus for 2015 was Ironman Lake Placid. She manages to balance family, work and training while getting ready for her wedding! 2015 was a 2nd time finish at Lake Placid for Olya. In 2016 Olya's focus changed a bit. She continues to do TRX with Kristen and is working on Sasha's Superheroes Run to be held in April of 2018.


---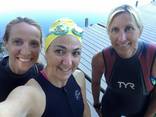 Benita Zahn
Benita (center) took on the challenge of the Lake George Olympic triathlon in 2015. This meant getting back in the pool (she had a high school stint on the swim team), buying a new road bike and continuing with her run training. It is no easy task balancing triathlon training, with a career as a new anchor, singing and performing in regional shows and wearing many hats at events every week. She is back again in 2016 training for the IronGirl Sprint in Sandy Hook, NJ.

---

Ashley Degnan
Ashley has trained with Kristen before to meet PRs. This year the focus is on a couple of triathlons leading up to a marathon in November.

She also was game to star in a commercial for the Freihofer's Run for Women when Kristen called at the last minute!

---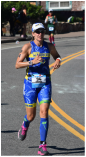 Wendy Colonno
Wendy was encouraged by well meaning friends to sign up for Ironman Maryland as her first triathlon. She knew it would take a year to train since biking and running were new to her. She started with Kristen in the Fall of 2015. Her swim and bike progressed well and after doing workouts with the Upstate Warriors she decided to advance the calendar and race with her new friends at Lake Placid. In her first year of triathlon she completed a sprint, a 70.3 and Ironman Lake Placid!

---

CJ Birdsall
CJ signed up for Ironman Lake Placid after volunteering at the 2015 event. He knew in August that he needed to finally learn how to swim, so he reached out for a swim coach. He had tried a variety of adult classes, but it just hadn't clicked. He worked with Kristen over the course of the year to get comfortable in the water, learn freestyle, and become more efficient in his stroke. The photo at the left is CJ coming out of the 2.4 mile swim at Lake Placid! Mission accomplished.

---