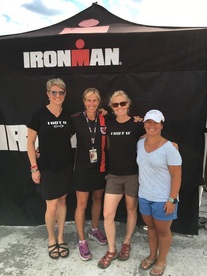 Testimonials

February 2018
Thanks for the training today. It was great to hear you talk about why we're doing various workouts, how it can apply to IM and the mental roadblocks you may face. Definitely a nice to know the science behind logging those miles and meters.
Sean S. Training for Ironman Lake Placid 2018

August 2016
I want to thank the awesome group of Upstate Warriors. We ran together at 5:30 am once a week even in the rain. They are such an inspiration to me . Among us, we have run thousands of miles but have come a longer way in our own individual growth. Setting goals, following through to get to them is most often the hardest part of a competition. The camaraderie in this group made it so much easier. Upstate Warriors is coached by Kristen Hislop. Kristen is a leader for the group but attends to us as individuals w individual, goals , backgrounds, and strengths.
Thank you to Kristen Hislop and her Upstate Warriors
Virginia T. August 21, 2016 Mont Tremblant Ironman finisher 16:31

July 2016
1 year ago I didn't know how to swim and came across Kristen Hislop through the Albany Running Exchange who taught be to swim with paddles, flotation devices, fins, etc many said I COULD NOT DO IT or that I was CRAZY to sign up for an Ironman. Thanks Kristen.
CJ B.

July 2016
Thanks Coach Kristen for your strength, support and for believing in us! Love you!
Nanette H.

July 2016
Post Ironman LP - I seriously do not know what I would have done without you this weekend. You kept my nerves in check as best as possible and today you went so far beyond anything I would have imagined. Your help this morning and last minute advice was was really appreciated. But the best part was you cheering and popping up everywhere. It definitely perked me up each time. I cried a lot, I really don't even know why. Anyway thank you so much for everything you did to get me to the start line and then all the extra you did for me this weekend. You are really the best coach and friend ever. Love you lots. I really can't believe I did it.
Sharon S.

July 2016
Post Ironman LP - I can't even begin to imagine it without you Kristen Hislop. Your calm, cool collected advice was our voice of sanity, and the photos are amazing!
Heather F.

October 2014
Post marathon - Couldn't have done it without your knowledge, support, encouragement & friendship - THANK YOU!
Rachel H.

April 2014
Woohoo!...I think it's the expert coaching...really...thank you so much for all your help...I couldn't have come this far without you...I really appreciate you.
Norm S.

This was relatively flat but I don't think i have EVER averaged 17mph and I felt like I was just having fun riding...thanks Kristen for getting me to this point! You're the best and I'm so thankful for you!!
Sharon S.

October 2013
Kristen, once again I find myself thinking of you and feeling thankful that our paths crossed. Today I took 2:30 off my PR + came in second in my division and it all started when you came running up beside me at the ftc + said "I really don't think you're working as hard as you could be, let's run faster!" Thanks again sister.
Marlene M.

December 2012
Swimmer? Me? NOT! Ive run a Marathon, I can bike 100 miles, but to do that 1st leg of a triathlon I knew that I had to learn the right way to swim. Problem being, I was terrified. When I first entertained the idea of taking swim lessons, I watched and listened to many people, and knew I must pick the perfect coach.
The first day I met my swim coach, I was so nervous. Just the thought of putting my face in the water terrified me. Kristen quickly put me to ease. Monday after Monday, lap after lap, the instruction and encouragement made the Aquarian in me become one with the water. I no longer look at the pool water as a scary place, where I do not belong. But a place where I find serenity, peace, and comfort for my mind and body.
All thanks to a woman who gave me the skills and confidence to compete in my first triathlon.
Michelle

December 2012
I wanted to thank you for an amazing year. (Yeah...I finally get it now after some recovery!) Without doubt, I could not have accomplished all the things I aspired to this year without your unwavering help, generosity, and belief.

You truly are a tremendous role model. I never would have pushed my 48yr old body as hard as I did if you hadn't either exposed me or made it all seem plausible. Just looking at your race results (20:41 wow) has been a great inspiration and motivation to try a bit harder and dare to dream bigger!

So glad I got the chance to know you better this year too. Thanks!
Ann C.

March 2012
I LOVE all your bike workouts! Not often I hit 19 miles on the trainer in the past. Rock on.
Tracy P.

Thank you. Without your encouragement and support I wouldn't be where I am now. Bring on the tri season!
Catherine B.

Feb 2012
I am so excited to tell you that I completed my 2 X 1000 yards workout (yes the one you had planned for me to do on Thursday) and it was the very best feeling of accomplishment I think (ever) for me. The first 1000 I had to stop and catch my breath- the second one, I had a groove going and I completed it in 18:04 – and did not need to stop once. For the first time ever I felt like I could say about myself, yes, I can swim. Really Happy, and I have to thank you so much- I could never have been here without you.
Theresa N.

2011 - It was a very good year!

I ran 9 miles last night and felt surprisingly good. The training is certainly paying off. My Z3 time was between 7:50 and 8:30 as I began to show fatigue at the end. I need to concentrate keeping relaxed, tall and strong, instead of relaxed and slouching.
Chris G

Kristen,
Your help, encouragement and support is PRICELESS!!! Thanks so much for your willingness to share your knowledge and experience with others. :-)
Dawn B.

I am continually amazed by how much Kristen Hislop is capable of. I jokingly refer to her as "superwoman" because there isn't anything that she doesn't do, and all that she does, she does well. She trains, she competes, she wins, she inspires. She coaches, she writes, and is a huge supporter of the Leukemia Society and Hannah's Hope Fund. She teaches spin, swim, she bakes, she is a mother and a wife. Everything she does, she does with passion.
Julie G.

As a triathlon coach, Kristen is a dedicated professional always will to offer advice and training tips. As a competitor, Kristen is a frequent age-group winner and is an inspiration for us fellow age-groupers that are just happy to finish our chosen events! A great competitor, she epitomizes the spirit of sportsmanship and honest competition that triathlon has come to represent.
Howard K.

Motivating - Kristen is a coach for Team in Training. She has the uncanny ability to understand people's limits, and helps them reach way beyond what they think they are capable of. This past year she trained a group of TNT'ers for a half ironman. While that might not seem like a big challenge, a few of the team members never competed in a triathlon. Not only that, but one wasn't even able to swim the length of a 25 yard pool. Instead of feeling daunted by this task, she met it head on! Everyone on the team crossed that finish line. The best part, is not only did they cross that finish line, they competed in several more over the summer. Why - because she had them prepared and they were able to enjoy the experience! She is at all times a resource for anyone and everyone - and she makes you believe you can do it.
Heather F.