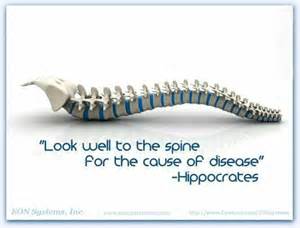 Recently I took at AFAA continuing education course titled
Midlife Fitness for Women
. The course focused on women 50 and older. I was hoping to cutting to some cutting edge research on menopause and athletes, but it was the basics. What did interest me was the focus on the
spine
. The talked at length on osteoporosis; the signs, types, and treatments. A few times they cautioned again spinal flexion for women over the age of 50 and especially anyone who had signs or symptoms of osteoporosis.
Those signs are:
a. Severe back pain
b. Severe neck pain
c. Loss of height, with stooped posture (kyphosis—bending forward of the spine that creates a curvature known as dowager's hump). Although this is usually painless, patients may lose as much as 6 inches in height.
d. Fracture of the vertebrae, wrists, hips, or other bones e. Bone pain or tenderness
f. Dentures that do not fit as well as before
To build and maintain bone density it is important to go heavy!
"To focus on promoting bone density and preventing osteoporosis, high resistance and fewer reps are needed (75–80% 1RM with 7–8 reps). While the above guidelines suggest 8–12 or 10–15 repetitions depending on age, research has demonstrated that bone responds better to higher loads with less repetition. Start with the minimum guidelines before attempting high-intensity training with women who have never before performed resistance training. Choose exercises based on those that: (1) involve many muscle groups in one exercise (structural or functional exercises); (2) direct the force through the axial skeleton (spine and hip); and (3) allow greater absolute loads to be utilized during training. The effect of resistance exercises is site specific, with bigger responses at the sites where working muscle is attached to bone. [For further information, read about the BEST (Bone, Estrogen, Strength Training) program by the
University of Arizona at the National Osteoporosis Federation
The goal is to incorporate functional movements into your strength program - full body movements and less isolation.
Over and over again the course stressed to avoid twisting movements, full sit-ups, and excessive forward flexion (forward fold) that might cause vertebral crush fractures in an osteoporotic individual. The issue is that most of us are not certain if we are osteoporotic, so I am taking the safe road with my own spine as well as my clients.
After taking the course I remembered reading some work by
Stuart McGill out of the University of Waterloo in Ontario, Canada
. His focus is preventing back pain, issues, surgeries and the like in people. To give context to the issue of back pain according to the Cleveland Clinic:
"Back pain and related symptoms rank among the second most frequent medical complaints. Disability from low back pain is second only to the common cold as a cause of lost work time and is the most common cause of disability in people under 45 years of age.
In the United States, the lifetime prevalence of back pain is approximately 80%, with a one-year prevalence rate of 15% to 20%, the highest prevalence is in the 45 to 64 age group."
According to an article by Arch Internal Medicine presented in Feb of 2015; based on two studies done, the first in 1992 and the second in 2006, the rate of prevalence of lower back pain is rising. They found that upwards of 80% of the population will experience low back pain at some point in their lives. 95% will have recurring issues and some will develop chronic pain. It was interesting that there was no clear reasons or populations for the lower back pain. It was across all demographics. One likely culprit is the rise in obesity while another discussed was depression.
If the issue is this big and widespread and according to other reports not well helped with medicine and physical therapy then how to we work on a healthier spine?
That led me to McGill. He has written numbers of papers on research that he and his team have done. He has done over 60 studies and focused on a number of subjects including monitoring MMA fighters to see how their stiff/engaged core allows power to leave the joints (hip and shoulder) while core relaxes to allow power generation in the hips/shoulders and then the core stiffens again to stabilize.
Think of it this way; the core acts as power transmission rather than power generation.
If you do not have a platform for transmission your performance will be compromised.
McGill says statistically those who have a greater range of motion in their spine are more likely to have issues in the spine later in life. A ton of flexibility may not prove to be advantageous as we age. Good news for me.
Anytime you flex the spine you potentially can cause a disk bulge. He says in a number of presentations that the spine only has a certain number of loaded flexions. Definitely take a look at his site to understand the difference between
moment and movement
. I find it interesting that in a number of papers he says, "stretches such as pulling the knees to the chest may give the perception of relief (via the stimulation of erector spinae muscle stretch receptors) but this approach only guarantees more pain and stiffness the following day as the underlying tissues sustain more cumulative damage. Eliminating spine flexion, particularly in the morning when the discs are swollen from the osmotic superhydration of the disc that occurs with bedrest, has been proven very effective with this type of patient.Realize that the spine discs only have so many numbers of bends before they damage. Keep the bends for essential tasks such as tying shoes rather than using them up in abdominal training.
A few key tips he offers:
You don't want your spine to flatten to the floor when doing core exercises in a supine position. placing your hand under the lumbar spine will keep the spine in a neutral position.
the spine is a stack of vertebrae that is called upon to bear loads, yet it is flexible. Flexion moment training (core stiffness) is key, not movement.
Lift with the hips: slide hands down thighs, back straight and then lift along the legs - not about the knees
Bending to get something off the floor - best to do with a lunge or a stork pose (one leg goes out behind while the spine stays neutral and you bend forward (make sure no one is behind yo when you go down this way!)
Exercises
1. One leg straight on the floor the other leg bent (on your back). Hands under lumbar region. Lift head, neck and shoulders is a perfect line. No curvature in the spine.
2. Stir the pot on the stability ball. Go into a plank position with elbows on the ball. Spine stays straight and you draw very small circles in each direction.
3. Side plank on the elbow
4. Bird-dog - on hands and knees hold left arm out and right arm out. You can add motion bringing knee to elbow, but spine stays stable. Only the shoulder and hop joint will move.
So next time you hit the gym think about a healthy spine and creating a strong platform for power transmission!