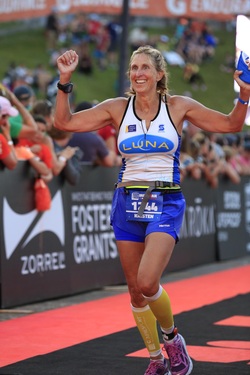 I tell anyone who takes classes with me that we start losing muscle mass after the age of 30! That loss is called age-related sarcopenia. People who are physically inactive can lose as much as 3% to 5% of their muscle mass per decade after age 30. Even if you are active, you will still experience some muscle loss. You need real strength work just to maintain your current muscle mass. If you want to get stronger then you need a plan. I am in the boat of wanting/needing to get stronger and being on the losing it quickly age bracket. My boys on the other hand are on the growing and getting stronger every day side of the equation.
I strength train 3 days a week and use some of my run and cycling workouts to build strength. But lifting is only part of the equation. You have to supply your body with the tools to rebuild after a good workout. Did you know that as you age your body's ability to synthesize protein also declines. Ouch double whammy. The good news is that
both aerobic exercise and resistance exercise enhance muscle protein synthesis. A study published by Dickinson and Rasmussen out of Arizona State University in 2013 says in the summary, "we argue that the capacity to stimulate skeletal muscle protein synthesis is preserved with age and when appropriate and targeted strategies are used, nutrition and exercise are capable catalysts for muscle protein anabolism in older adults and can serve to preserve/improve muscle size and function. In addition, distributing appropriate quantities of ingested protein throughout a given day and performing routine exercise may preserve the protein synthesis response of skeletal muscle and slow the progression of muscle atrophy. In particular, routine exercise serves to improve insulin sensitivity and the protein anabolic actions of insulin on skeletal muscle. Finally, the strategic coupling of exercise and nutrition also represents a practical strategy that has promise for restoring skeletal muscle size and function in those older adults who may already be at risk for the deleterious effects of sarcopenia, and this combination may be even more useful as a strategy to recover physical function in clinical aging populations." A mouthful, but basically we need to look at exercise (resistance and weight bearing aerobic) with nutrition to slow the aging process!
I stress to my boys (12 and 14) every day the need to balance out meals and always have protein. One runs daily, so his burn rate is as crazy high as high as his appetite is large! I am having trouble finding ways to keep him full. He loves his Power House Athletics protein powder and makes his own shake concoctions. His current favorite is vanilla protein powder, vanilla almond milk, a banana, and Reece's PB cups! He doesn't do that all the time - just as dessert! He knows that after a good workout he needs to get in a 4:1 or 3:1 carb:protein snack.
I decided to try some whey protein powder that I could add to pancakes, muffins and other meals to make sure we are getting the right balance at each meal. Today's lunch was egg salad (2 whites and one yolk), mashed avocado, and a teaspoon of powder. I am a self professed carb loader, so even when I think I am doing well I can still end the day with 60% carbs!

Other ideas I found were adding to guacamole, hummus or black bean dip - sounds reasonable to me and would be an easy post school/workout snack for the guys. A scoop in my morning oatmeal. I made it this morning, but forgot to try, so will give it a go tomorrow and maybe gt back into adding a scoop of pumpkin as well. Some various types of protein powder in waffles and pancakes. I am not sure I would change the tried and true recipe for sourdough pancakes, but a little protein boost in our decadent buttermilk waffles would be good.

A couple of recipes I found said substitute a 1/4 of whey or soy protein powder for flour in muffin recipes. A nice counter to the chocolate chips I put in our whole wheat banana muffins! So how do you boost the protein or even add protein to your meals to keep them balanced?

Just to throw another curve ball at you - did you know that certain drugs block or slow protein synthesis in the body.
Ibuprofen, antibiotics, and alcohol! For those who like the data here is a study that was done to look at exercise followed by a good protein/carb recovery and ingesting alcohol post workout. To be fair there are also studies that say NSAIDs do not affect protein synthesis, but to be on the safe side I try to stay away! (this study also found that they did not help with muscle soreness, so why bother any way)