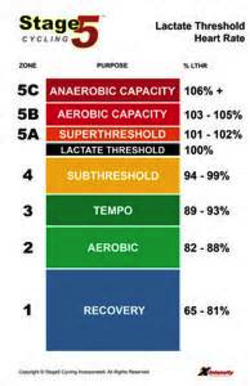 Heart rate training sounds easy, but is it?
No, not for most athletes and for a number of reasons. The first is that is can be confusing and the second is that it can be frustrating! Confusing because there is a fair bit a data to be analyzed which changes over time (your season and your life) and changes over the distances you race. Frustrating because staying in the zone is tough. At the low end you feel like you aren't working hard enough and at the high end you realize you've never come close to working hard enough!
Let's start with the fact that the heart is a muscle which can be trained. Many male endurance athletes will have enlarged hearts, just as their quads and lats are bigger and stronger. It is tougher for women to build muscle, so they gain efficiency without the size.
For years athletes trained on perceived exertion which was a how hard the activity felt. Highly trained athletes are typically able to push harder longer and many have a different pain threshold.
Perceived exertion
scales run with 1-10 or 1-20. The Borg Scale developed in 1998 is the 1-20 scale. A 6 is no exertion at all and a 20 is maximal exertion. Perceived exertion ratings between 12 to 14 on the Borg Scale suggests that physical activity is being performed at a moderate level of intensity. It has been found that for moderate exercises this can relate fairly well to heart rate. As an athlete gets more fit they should see their pace change at the same perceived exertion level. So if our athlete runs a 9 minute mile at level 14 (somewhat hard) and enters into a training program with changes in intensity that over time a run at level 14 would be done at an 8:45 pace. See the slideshow for graphics.
Perceived exertion is just that - perceived.
We all view things differently, so what heart rate training allows us to do is get some hard data into the picture. Most gyms have the heart rate training zones graphic posted which can give some guidance, but does not take into account the resting heart rate. The old way of calculating your maximum heart rate was to take 220-your age= your max HR. This however does not take into account your fitness level. For a 50 year old 220-50=170. Researchers say that for females a better calculation is 206-(88% of age) = 162. Which does not match my female max HR of 176! See it is confusing.
The Karvonen method
of calculating heart rate zones takes into account your resting heart rate. To determine your resting HR check it when you wake up in the morning (if possible without an alarm) for 3-4 mornings in a row. Average the results and your should have a good basis for your resting HR. Then you can plug that into the
Karvonen calculator
or for those who like math the equation is: Target Heart Rate = ((max HR − resting HR) × %Intensity) + resting HR
This is another way to get an approximation of your aerobic threshold
1. Take 180 and subtract your age.
2. Take that number and correct it by the amount next to the statement that best describes your level of fitness:
a. Subtract five beats if you are recovering from a major illness or injury that has kept you from training for six months or more.
b. Leave the number where it is if you have been working out about two to three days per week for at least a year.
c. Add five beats if you have been working out more than three days per week for at least a year.
d. Add 10 beats if you have been working out more than five days per week for at least five years without recurring colds, illnesses, injuries or long periods of burnout.
e. If you are older than 55 years old or younger than 25 years old, add an additional five beats to whatever number you have right now.
Once you have your HR ranges you will see they fall into zones.
Triathletes will often talk about training in zone 2 or 4. What they mean is the percentage of max heart rate. If someone says they did a workout at the top end of zone 5 you can ask how hard did they fall to the track. Zone 5 is an anaerobic effort. We will start there since we can't last long there. Anaerobic means without oxygen. What this means is that your body is forced to create energy without the use of oxygen (which is the efficient way to go). Without getting too technical, your body breaks down ATP to create energy. It can either do this with or without oxygen. It takes longer for the ATP to breakdown without oxygen, so you can only go for about 2 minutes. Using oxygen the body is much more efficient and can continue on for long periods of time. Here are some examples of different distances raced and the energy system used.
Heart rate zones - see graphic above
So there are zones and now the question is -
what do these mean for me?
Well where you train depends a bit on what you are training for - the distance. But pretty much across the board we all want to build a bigger aerobic engine (that will let use stay in the aerobic zone longer) and have the ability to draw on the all out when we need it (a kick to sprint up the hill). The majority of our workouts should be on zone 2. The knee jerk reaction to that is well I can't train there because:
It is too slow
I am not working hard enough
I don't feel like a got a good workout
I'll never get faster doing this
You can train there and you should train there.
This is where the pro athletes do the bulk of their training. It is just that their pace in Zone 2 is something we aspire to and may only touch in Zone 5. They trained to get that speed and you can too. If you spend the time training here you will see a drop in your pace over time. How do you know you are there without a HR monitor. It is also called the conversation zone. You should be able to hold conversation with others around you in this zone. You won't need to take a breath in the middle of a sentence. You are fully aerobic.
Zone 3 is where most people train. They are breathing hard and working hard. They sweat and feel like they worked hard at the end of an hour. But here we not building our aerobic engine nor are we 'punching the ceiling'. It feels like you are working hard, but in reality your aren't working hard enough.
We need to move over to zone 4 to put in the quality work.
This is your threshold zone - you can do it for an hour, but not more. Your breathing is heavy and your muscles feel it because you are at race pace. Zone 5 are the real short efforts. If you are racing sprint events and need a powerful kick at the end you'll train here to have that in your arsenal.
So the majority of your work will be done in zone 2. This does not mean that all workouts are pure zone 2. Interval work will take you from zone 2 to zone 4 and zone 5a/b. A coach can give you workouts that will give you the right mix for your target events.
Why should you care if you aren't trying to podium?
You train this way to make your races more fun! I believe everyone should cross the finish line with a smile on their face. Heart rate training is a tool to get you there. Plus it feels good to know that long easy run is really paying off!
Since every athlete is different and comes from a different background you'll be tweaking your zones and honing in on your numbers. It is fun to see how perceived exertion is different from your heart rate. You'll notice that you may think you are working really hard and yet your heart is telling a different story. Celebrate in that - a new level of fitness achieved!
One more wrench to throw in the game!
Your run heart rate zones are not the same as swim and bike! In the water and on the bike you are not bearing your full weight. So when you get your zones for running then subtract 10-15 for the bike and your would subtract another 10 for the swim (if you can get your HR in the water).
Another way to get training data for the
swim is a 1,000 yard time trial.
300-500 yd warm up
6-8 x 50 yds on 10 seconds rest between each
1,000 yd time trial (best effort)
300 easy cool down
Then you can use your 100 pace for the 1000 to create times (paces) for workouts. If you swim a 2:00/100 yard pace then you might do a hard set of 100s on 1:50 pace.
One last tidbit is fat burning and calories usage.
You'll see that on the charts in the gym. At a lower heart rate you are in the fat burning zone. Many of us would like to burn a little of the over 80,000 stored calories we have on our body at any time. As your heart rate goes up the fuel mix changes and you need glucose to help in that energy production. Sadly we can only store about 2500 calories of glucose (hence the need to fuel as you go longer in a race). BUT as your heart rate goes up so does your calorie burn which is why the HIIT classes are so popular. If you really get your heart rate up then your will burn more calories over an hour than if you stayed in zone 2 for the hour. So what are we to do? What is right for your goals. If you are doing triathlons or road races you will want to train in zone 2 (benefits - build aerobic engine, burn fat and teach your body how to better burn fat a fuel source we have in bulk) and punch the ceiling in zone 4-5 (higher caloric burn, pushes out your max, makes you faster, makes you stronger, learn the pain).