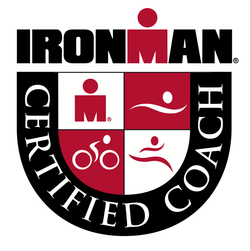 I first started thinking about Ironman shortly after I started doing sprint triathlons in the early 90's. I was pretty fit, at least I thought I was, and I could run, bike and swim, so why not? I think it was in 1997 that I signed up for the Ford Ironman California. I had done the NYC Marathon in '96 and survived it. My Dad had spent a couple of months at Camp Pendleton in his Army days and my Grandmother lived in Laguna Hills, so it would be great. I started 'training'. I bought a whole bunch of winter gear for riding. I was fine running during the Boulder, CO winters, but I had never tried cycling all winter. After a couple of chilly rides I decided this outdoor stuff might not be for me. I'd keep up the running and swim inside and then I could cycle outside when the weather got nicer. I did periodically ride spin bikes, but didn't really know what to do on them, so it was an easy ride. The one thing I did know was how to build a swim workout, so I'd get in the pool a couple of times a week and get a decent workout in. My runs at the time were a very consistent pace - nothing too fast and nothing too slow!

At the time I was working at a marketing agency and one of the creative leads had done Ironman and had been to Kona. Every once in a while he would ask how my training was going. As winter turned to early spring went on he asked more specific questions until the day he said to me "I don't think you are at all prepared for the race". I had known in the back of my head that I had bitten off a lot more than I could chew. I was working long hours and coming in on the weekends. I was not putting in quality training and honestly had no clue what I was doing! So I sent in a letter - via snail mail - and asked for a refund.

Another year went by and I got more serious about doing an Ironman. I had met a guy who was training for IM Florida and got me to sign up for 1999. He had a coach, so I piggy backed off his workouts and actually had some real structure in my training. Things were going along well until I got hit by a car on a 60 mile ride. No broken bones, but ligament damage and an incredible fear of the bike. I had always been a cautious cyclist. I had never trusted drivers before getting hit and then after looking the kid in the eye and having him drive into me it was an uphill battle. I probably could have battled through workouts with my arm in a sling, but I was dealing with a few other issues in my life that took too much energy, so I backed out yet again. This time only getting a little of my money back.

At my next marathon - Napa Valley - Reid and I got engaged! We got married in September and that Memorial Day weekend I ran the Bolder Boulder and a weekend later did the swim in the Longmont Tri pregnant with Alex (born June 15). I did a sprint tri when Alex was just a couple months old and then did a couple the following summer. Then Jack came along in May. I wasn't nearly as diligent with my training with a job and a little one at home, so the next tri was after Jack's first birthday. I was happy doing sprints and an occasional Olympic distance (I always loved the Boulder Peak Tri).

A job change for Reid prompted a move back East and I left my faculty role at the Leeds School of Business at CU. To make a really long story short I got involved in coaching - runners and triathletes. I became USAT certified and then USA Cycling certified. I coached a few people to their first Ironman races and finally said I need to do this myself. The real impetus was Tammy saying she was going to do it and we could train together. After the Danskin sprint she took off and headed to Lake Placid to volunteer that night and sit in line the next morning. I stayed to pick up my award and thought about driving up to Placid all the way home! I told Tammy I would get on line and see if I could sign up at noon. Well don't you know that I was actually able to do it. So the journey started again. 3 times a charm, right? Make is short - I did it 12:29 and had a blast. Enough fun that I did it again in 2015. I have always said that you are a triathlete no matter what distance you race. As a coach I think there are advantages to having done all the distances.

I was on an Ironman pod cast in August and they said someone who tweets in a question will have a chance to 'win' registration to Ironman University. I was an interesting discussion, so I did have a few questions. The next day I got the email saying I was in to Ironman U! The variances in training and certification programs in the fitness industry is almost ludicrous. Not knowing what to expect at all, I started in on the training. It was engaging and I found it a good mix of review along with new material and some validation to my philosophies. The course went pretty quick. I did not take notes, but did pay attention, so the multiple choice part wasn't hard. I have been coaching for a while and read everything I can get my hands on. Then I looked at Part 2. Wow - this would take some thought and preparation. I had a few busy weeks, so put it off. Finally I got on it. I loved it because I had to sit down and think about my answers and then pare them back to fit the assessment criteria.

I submitted Part 2 and was expecting to hear back in a week. The next morning I was on the Ironman U site updating my profile. I noticed it said my certification was up in 2017. That was quick! My alumni who will be doing 70.3 and 140.6, plus my new athletes are going to benefit from some of the new tools I have as well as new ideas. 2016 is going to be a great year.