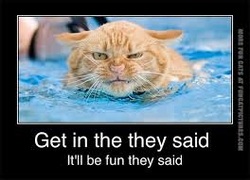 I read and hear things like this all the time
"In all my triathlons there has been some sort of backstroke/breaststroke/desperate swim style just to get it the hell over with"
"People seen most terrified of the swim portion. It's been several years since my last tri, but I dog paddled, treaded water, floated on my back - but finished (all during the race)."
"Swimming is the most intimidating for me. So not a swimmer! If pool is full, I will leave and come back. Can't bring myself to share lanes unless it's with my husband and never with more then 1 other person. I'm doing 4min/100yds needless to say I am in a "league" of my own!!"
Why?
Why do people let the struggle continue for so long? In every triathlon I have done, including Ironman, I have seen people in the water who in my opinion had no business being in the swim. It just wasn't safe. But triathletes push themselves to just get through the swim.

My mother decided early on that she was not going to be on a sailboat all summer with 3 non swimmers (my Dad to this day cannot swim). So we started with swim lessons, which led to my sister and I swimming through college. My boys started swim lessons early and neither were a fish! It took Jack years to get his head underwater (and now he rarely comes up). He used to race, since the deal was you either take swim lessons or do swim team until you can swim from a ship to shore, using the rescue jump for his starts. He now has a very nice breaststroke, but no desire to compete. That is fine. He learned the life skill that will enable him to swim anywhere and be comfortable and relaxed in the water. Best of all if he ever decides he wants to do triathlons he will just need to get in the water and practice versus learn.

Learning to swim as an adult is no easy task. There are so many things to think about add in the breathing and sinking hips and it feels nearly impossible. I'd love to see more triathletes ask for help swimming! Are you going to win a triathlon with the swim? Chances are no, but you can come out of the water warmed up and ready to tackle the rest of the race.

I coach a masters group. I am always trying to recruit people to join us. I understand that looking at a group doing organized workouts can be intimidating and yes we have some swimmers who swam in college. What you don't know is that they too are frustrated! They will never hit their PRs and are working really hard to gain a few seconds. The range in ability of our master group is huge. Just as you would expect with a run or cycling group. The nice thing about the pool is that we are all confined to 25 yards. You'll never get left behind in the pool! The workouts are set by lane so that each group is challenged to their ability.

George comes and swims at the same time as our masters group. We have invited him numerous times. Yesterday he was waiting on the pool deck for a lane (since no one wants to circle swim). I suggested he try the kick set with us and he admitted that he was scared. My response "of course you are". I know everyone is scared to start, but please don't be! If you can already swim laps then join a masters group. If you need stroke work (which pretty much everyone does) then seek out lessons. Being happy in the water is all about being relaxed and efficient. As a coach I have ways to make that happen.

Lori started swimming and unbeknownst to me she was really quite terrified of the deep end and putting her face in the water. Always one to please she neglected to mention it and just said OK when I asked her to swim a 25. Just doing it made her realize that she could and we moved from there. She had to start with fins and learning to breathe to the side. The first time she swam a 100 without fins her time was over 3 minutes. Now after consistent practice she can swim a 100 yards in 2:12 and can swim for a 300 straight. When she gets into open water for her first triathlon this summer she will be ready. We practice relaxation techniques along with stroke work. Everyone needs to know how to gather themselves in the water. Sh** happens in a tri - whether it be a kick to the face and losing your goggles or a panic attack.

As I was writing this I got a note from Lori - "
You won't believe what just happened! I did 2 back to back 500s with NO paddles or fins!!! Started out trying for 300 and felt good on the first one so kept going to 500. When I finished I still felt ok so I got scared and thought maybe it was just a one time thing so I did the second 500!" And then she sent the picture below - made my DAY!
I am working with a new application called Edufii that allows me to load videos and share with a group. Check it out
https://edufii.com/i/d9f965865c
for swim and other videos and tips. Feel free to share.
If you are ready to get help with swimming then come to a clinic.
Jan 24, 2016 - Niskayuna HS pool - women only 8:30-10:30 am. Stroke work, stroke analysis, and drills for YOU. Free for members of Upstate Warriors, $20 for guests.

Jan 31, 2016 - Niskayuna HS pool -
men and women
8:30-10:30 am. Stroke work, stroke analysis, and drills for YOU. Free for members of
Upstate Warriors
,
$20 for guests
.