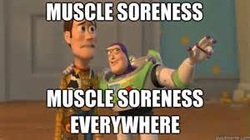 Sore muscles are caused by lactic acid. Well sorry if your Mom told you this (or more likely your favorite fitness instructor) they are talking from outdated research. This one just hangs on as research in early 1980s showed that lactate is not a bad thing and has nothing to do with muscle soreness. So why do we talk about lactic acid build up?

In the early 1900's German physician and biochemist, Otto Meyerhof, cut a frog in half and put its legs in a jar. The frog's muscles had no circulation hence there was no source of oxygen or energy. Dr. Myerhoff gave the frog's leg electric shocks to make the muscles contract, but after a few twitches, the muscles stopped moving. Then, when Dr. Myerhoff examined the muscles, he discovered that they were bathed in lactic acid. A theory that would last a century was born. From there on out it was thought that a lack of oxygen to the muscles leads to lactic acid which in turn leads to fatigue.

George A. Brooks, a professor in the department of integrative biology at the University of California, Berkeley became interested in the 1960's when he was running track at Queen's College and his coach told him that is was lactate acid that caused his muscle soreness. He decided to study the lactic acid hypothesis for his doctoral dissertation. In his early research he found that in rats (and later humans) lactate was actually a source of energy. The tiny amount of acid that is actually created is flushed from the body quite quickly after exercise ends. Whereas the soreness can take days to set in.

There are some great descriptions of lactate versus lactic acid and what can actually builds up in the body on line. What you should know is that lactate is the principal fuel for the heart during vigorous exercise. The good news is that the liver can recycle it and it becomes a new source of energy. Did you know your body is constantly making lactate? It does build up as you increase the intensity of exercise. Our lactate threshold is simply the point where our bodies produce lactate faster than it can clear it. This makes our ability to clear lactate a critical part of sustaining high-end power.

Based on Brooks's research one of the highest priorities of training should be to increase the body's capacity to use lactate during high-intensity exercise so an athlete can race faster longer. We know that the lactate threshold is the fastest swimming, cycling, or running speed that can be sustained for one hour. This means most athletes should be able to train at this to get faster and stronger. The are other limiters to a lot of intensity training, but lactic acid is not one!