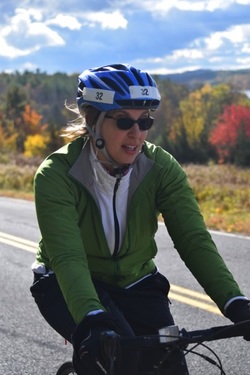 Out of the bright blue sky today fell snowflakes!! What? Not yet. In the middle of the Mohawk Towpath Duathlon. These athletes never catch a break with the weather. This weekend always turns cold and gives them a run/cycle/run for their money.

It is such a great event because it draws top triathletes alongside those du'ing it for the first time. The course starts at Riverview Orchards offering fans a place to stay warm and down a coffee and cider donut while their loved ones race. Giffy's fires up the bbq before the start so the runners head out enticed to return for a bbq chicken lunch. The bike takes them on a tour of Clifton Park's apple orchards finishing with a flat 2 mile run.

Eric Hamilton, race director, was a bit afraid of noting that this was the 13th annual event, but it went off without a hitch thanks to his efforts and those of his awesome volunteers. Tracy Perry was on the awards again this year creating special age group award ornaments that came attached to a candy apple.

I took over 1500 pictures of the event. Everyone should get at least one picture they will cherish - at least for today!