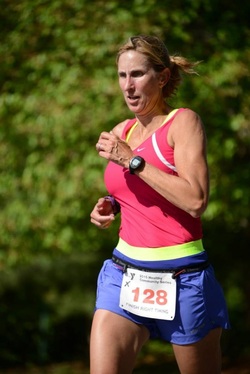 I am lucky to have a great group of people to run with on a regular basis. The Friday run is a bunch of cul de sacs that end up offering some decent hill training. I headed out this morning figuring I would take it easy, but maybe work the hill on the return. As usual there were runners of varying speeds headed out. Joe quickly popped over next to me and started up a conversation as he bounced along with a nice quick cadence. I thought for a second that maybe I should drop back and take it easy, but decided to hang with Joe and drop back at the light if I needed. We were moving along at a good clip - not completely conversational for me, so I tried to keep Joe talking. As we went into the cul de sacs I was started to feel our pace, but I really wanted to try to maintain the cadence (Joe has been helping me get it up).

As we headed up one hill I decided to hang back and let Joe run the cul de sac so I could stretch my hammie and get some air! I was able to get my HR back down, so could take off with him again. We chatted and held a strong pace for another mile or so. I then started strategizing how I could make the rest of the run in my head. I figured I could ease up a bit before the last hill and then try to maintain a decent pace to hang onto the hill. Maybe I should walk. Maybe I should just say I can't keep up. Maybe I should just suck it up! Right then Joe says "OK let's hold this pace to the stop sign then we dial back and recover to the creek. At the creek we work the hill" Hallelujah - that I could do. We eased back a bit, maybe too much. As we headed up the hill my legs were toast, jello, nothing, nada left! I tried to push it, but really just lost that loving feeling. I hit the top behind Joe who quickly congratulated me! I knew he had had a plan for me and it was great to feel that success. He knows I have a kind of lofty goal and he is happy to help push me out of my comfort zone to get me there! It was a tough run, but what a sense of accomplishment afterwards.

I am looking forward to my next run with Joe - with a little trepidation and a lot of anticipation! Pick a workout and push out of your comfort zone. As a coach I try to get my athletes to do that in a variety of workouts. It is fun for me to be on the other side of the fence! Thanks Joe.