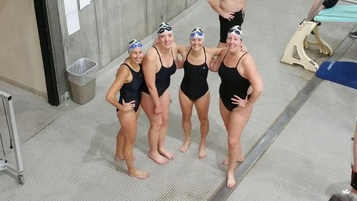 That is the name I gave the spring Masters Swim meet coming up at the Southern Saratoga Y (April 17 at 8:30 am to be specific). A group of us did our first meet in January and had such a blast that I said we needed another one and approached the Y. Molly bit on it and now we are recruiting swimmers. The Y pool is FULL of swimmers on a daily basis. Some just get in and do laps, others have workouts and of course many are triathletes. If we just looked at the swimmers at the SS Y we should have 100 participants and yet we don't!! Why??
People are afraid of a Masters Meet - I know because I was once in the same boat. I thought:
everyone will be super fast
I'll fall off the blocks
I'll be last
I won't be able to get out of the pool
and the list goes on for other folks (like I can't do a flip turn or I have never gone off the blocks)
Let me put your mind at
EASE
.
Masters meets are super low key
. The age range is typically 25ish to 85ish. Some people dive off the blocks and others off the side. Some people do flip turns and others a nice open turn. You can wait until everyone has finished the race and swim over to the ladder to get out. Same holds true for the relays - just stay to the side and out of your teammates way.
How does it work?
You join USMS (or pay a one day fee)
You go to the meet website
You enter whatever events you want (up to 5). You can enter all 50s of you could do up to 1000. All up to you. You put in your seed time (what you think you will swim). If you don't know then you don't enter a time and you will be in the first heat - less pressure in a pressure free environment. Check the box that you are available for a relay. We will have two fun ones - a kick relay and a t-shirt relay (the wet shirt gets passed from one person to the next!). You sign up for the relays on the pool deck.
Pay for your events (relays you pay for day of).
Show up with your cap, suit, googles and a couple of towels on April 17 at 8:20am.
Warm ups will start at 8:30. You can get in and swim as much as you want to warm up. There will be one lane open during the meet for warm ups and cool downs.
Tips
:
get your friends to come (they can swim or cheer)
bring an extra towel or sweatshirt in case you get chilly on the pool deck
bring an extra cap and goggles - crazy things can happen :-)
bring a great attitude
Triathletes will say I don't need to swim at a meet since it isn't like an open water swim. Well a cycling time trial isn't like the bike ride in a tri, but I would encourage you to do it anyway. Developing some speed is a good thing. Swimming in a meet gives you a chance to work on pacing. It is also a fantastic opportunity to watch some great swimmers in action. You can ALWAYS learn from good athletes.
What are you waiting for?? Get signed up - deadline is April 13. You can drop your printed registration off at the Southern Saratoga Y at One Wall Street in Clifton Park. I can guarantee that you will be inspired by the other swimmers at the meet. And you might even be inclined to sign up for the Bethlehem Y meet on May 15.