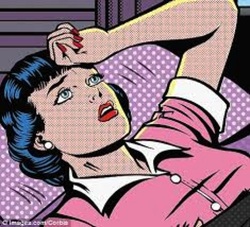 Not surprisingly most research on endurance athletes has been done on men.
As the percentage of women in endurance sports continues to grow hopefully more research will center on women. Right now more women participate in half marathons than men. Female numbers are getting stronger every year at the marathon, half ironman and full distances. Limited research or certainly field experience says that the menstrual cycle affects female athletes.
Here's a
little primer
to make the conversation later easier to follow. Typically the
female cycle
is divided into two phases the follicular and the luteal. Day 1 your lining sheds and this can last 4-6 days (your period). During the follicular phase an egg follicle on an ovary gets ready to release an egg. The last 5 days of the follicular phase are when you are fertile. The luteal phase starts when the egg is released. This phase lasts until your period begins - premenstrual. It is during this time that your hormones (estrogen, follicle stimulating hormone, and progesterone) are on the upswing. That isn't to say your hormones are not constantly on the move (check out the graphs in the slideshow).
In the
luteal phase the hormones estrogen and progesterone are both higher
levels so your blood plasma is lower and there is a faster time to fatigue and hyponatremia (a conditions that occurs when the level of sodium in your blood is abnormally low) is more common. Focusing on proper hydration will positively affect workouts at this time. Estrogen tends to be at a peak when ovulation occurs and at that time tendons and ligaments can become more lax. Some female soccer players say that ACL issues have occurred at this time in their cycle.
On top of that in the high hormone phase women have
less heat tolerance
because your own body temperature can be a degree higher than at ovulation. This means that women need to really focus on hydration and appropriate hydration to keep electrolytes in balance.
As we move into a
high hormone phase
the need for some carbohydrate supplementation increases. When the hormones are high women should also focus on getting in good proteins within the 30 minute window after exercise as well as thinking about getting BCAAs in pre-exercise. What are BCAAs? Branched-chain amino acid boost protein synthesis during and after training sessions. You've probably heard them touted in supplements and protein powders (my favorite is
Power House )
Here are foods and their BCAA content
Food Serving Protein BCAAs Leucine Isoleucine Valine BCAA Leucine
(per g of protein)
Chicken Breast 6oz 36g 6.6g 2.9g 1.8g 1.9g 0.18 0.08
95% lean beef 6oz 36g 6.2g 2.8g 1.6g 1.8g 0.17 0.08
Canned Tuna 6oz 33g 5.6g 2.5g 1.5g 1.6g 0.17 0.08
Wild Salmon 6oz 34g 5.9g 2.7g 1.5g 1.7g 0.17 0.08
Flank Steak 6oz 36g 6.2g 2.8g 1.6g 1.8g 0.17 0.08
Talapia 6oz 34g 5.9g 2.7g 1.6g 1.6g 0.17 0.08
Turkey Breast 6oz 40g 5.2g 2.8g 1.1g 1.3g 0.13 0.07
Egg 1 6.3g 1.3g 0.54g 0.3g 0.4g 0.21 0.09
Egg White 1 3.6g 0.8g 0.3g 0.2g 0.3g 0.23 0.09
Roasted Peanuts 6oz 12g 6.8g 3.1g 1.7g 2g 0.14 0.07
You'll see the BCAA is not equivalent to the protein, so a balance is best.
Research shows that 3 grams is the approximate amount of leucine needed at a given meal to maximize muscle protein synthesis, so 6 oz of any of these meats is on the low side of what you would want to consume at a meal.
Estrogen evens affects our metabolic rate -
you may have already noticed this if you are trying to lose weight.
The good news for female endurance athletes is that we have a greater capacity for burning fat at a given intensity level requiring less fueling. This is true when estrogen is at a higher level. So if you are racing an endurance event and keeping your heart rate nice and low then you may actually need less fuel.
As a bonus to menopause
I raced Ironman Lake Placid with my period, but had not had it since April when I ran the Boston Marathon! Note to all in headed to menopause it will visit the big event! Since I had not had my period for 3 months my estrogen levels had most likely really dropped (I have not been tested). At Lake Placid I burned 5296 calories and took in MUCH less than anyone would say I should. I am thinking that although the day was very hot because my estrogen levels were low I was able to better manage the heat.
You absolutely need to focus on where you are in your cycle for performance maximization.
When estrogen is low in your cycle you may notice more fatigue.
When progesterone is low you may also feel low energy and sleep issues. Some websites say that the spice turmeric, also in curry, is known to help increase the body's progesterone levels. Other herbs such as thyme and oregano are thought to have the same properties. Adding one of these ingredients in each meal may help to smooth hormonal balance.
There have been a couple of studies done that show athletes perform well in endurance events while menstruating. In 2006 Kishali published a study titled
Effects of menstrual cycle on sports performance.
Directly from the study abstract "The aim of this study was to examine the effects of menstrual cycle on female athletes' performance. Forty-eight teak-wondo athletes, 76 judoka, 81 volleyball, and 36 basketball players (total 241) elite athletes participated in the study. A questionnaire constituted from 21 questions about menstrual cycle applied. Most of the athletes said that they have a painful menstruation period, and during the competition their pain decreased. As a result of the questionnaire, during the training and competition the number of athletes that did not use drugs were higher than the athletes that used drug (p < .01). The number of athletes that felt good before and during the menstruation were significantly higher (p < .05, p < .01). Between the menstruation periods the athletes said that they felt better in the first 14 days than the second 14 days (p < .01). When the non-menses period and menses period were compared the athletes said that their performance did not change (p < .01). It has been concluded that the menarche age was high in the athletes. It has found that the physical performance was not affected by the menstrual period and the pain decreased during the training and competition." Although it can be a pain to deal with, don't let it affect your mindset going into an event.
We have all read in mainstream fitness magazines that after an intense workout your metabolic rate stays higher, meaning you are still burning calories at a higher rate for up to 20 hours. Hence the popularity of HIIT and other high intensity training. Bummer alert -
Dr. Stacy Sims a researcher and founder of OSMO Nutrition
says that women return to normal metabolic rates much faster, within 3 hours.
In 2006 an article titled
Nutritional aspects of women strength athletes
was published in the British Journal of Sports Medicine. The study look at strength training and nutrition for women. They found that "compared to men, women appear to be less reliant on glycogen during exercise and less responsive to carbohydrate mediated glycogen synthesis during recovery. Female strength athletes may require more protein than their sedentary and endurance training counterparts to attain positive nitrogen balance and promote protein synthesis. Therefore, women strength athletes should put less emphasis on a very high carbohydrate intake and more emphasis on quality protein and fat consumption in the context of energy balance to enhance adaptations to training and improve general health. Attention to timing of nutrient ingestion, macronutrient quality, and dietary supplementation (for example, creatine) are briefly discussed as important components of a nutritionally adequate and effective strength training diet for women." While this study was on strength athletes it has implications for endurance athletes as well. First, all women should be strength training since we lose muscle mass after the age of 30 and strength work creates muscle balances countering the imbalances of sport training. Second it was found that women use more fat stores and less carbohydrate stores than men. This means that when a company says eat this high carb gel every 15 minutes that is likely overkill for most women. Another study done in 2001 (Binzen C A, Swan P D, Manore M M. Post exercise oxygen consumption and substrate use after resistance exercise in women. Med Sci Sports Exerc 200133932–938.938 [PubMed] ) found women continue to burn fat post exercise - again unlike men.
Studies done in 1996 found that during a woman's cycle
when estrogen is high there should be increased muscle strength
, but that is muted by progesterone. Interestingly a few studies found that there was no change in muscle fatigue over the course of a cycle nor did the cycle change the muscle ability to contract and fire. A study in 1998 by
De Souza et al
found that recreational runners did not ovulate as consistently as non runners and therefore their hormone fluctuations were different. Another reason to document and track your cycle and training progress.
Deutz and team published research in 2000 looking at 42 gymnasts and 20 runners all of national elite caliber. They did extensive body composition analysis and used a procedure to measure energy balance finding that those who were under eating actually had higher body fat percentages "possibly from an adaptation of the resting energy expenditure'.
So eating less does not give you the strongest body.
Deutz R C, Benardot D, Martin D E. et al Relationship between energy deficits and body composition in elite female gymnasts and runners. Med Sci Sports Exerc 200032659–668.668 [PubMed]
What about fatigue?
Very often low iron is associated with fatigue, but what about athletes whose iron levels test fine? Low iron stares can decrease physical performance, cause unusual fatigue and even cognitive impairment. A study was done in
2014 to test iron supplementation
in athletes who iron levels were normal. It was found after 6 weeks of IV iron supplementation that there was improved perceived fatigue and mood of trained athletes (without improvements in oxygen transport capacity of performance). Earlier another study was done by Irena Auersperger and team and published in 2013 on the premise that many endurance athletes are iron deficient. The study founds that of 14 runners, 7 were iron deficient at baseline and 10 after training. The prevalence of depleted iron stores was 71% (in the whole group of 21) after 8 weeks of training. Hepcidin (regulates stores) and iron stores did not recover after ten days. This means that after a tough training period along with a recovery your iron stores and hepcidin levels will not recover to normalcy. Hence a good chance you are going to experience fatigue and less than desired athletic results.
Vitamin D can affect both muscle strength and aerobic performance.
Stress can deplete vitamin D levels along with cold dark winters! Nikolaos E. Koundourakis published a paper in July 2014 titled;
Vitamin D and Exercise Performance in Professional Soccer Players
. While the study looked at professional soccer players it studies aerobic and neuromuscular exercise performance both important to endurance sports. They found a possible effect of vitamin D on jumping ability and strength. They also found a linear association between vitamin D and VO2max. Other studies have show deficiency in vitamin D leads to decreased lung function. Better lung function could result in better VO2max.
Vitamin B12 deficiencies are more common in vegetarians.
Some studies have shown that B12 levels can be altered with strenuous exercises
as a result it is a common supplement for triathletes and other endurance athletes. The B vitamins are involved in energy production during exercise. B12 is required for the production red blood cells, for protein synthesis and tissue repair and maintenance. Studies are inconclusive as to whether exercise really depletes B vitamins and B12, so athletes should make sure their diets contains good sources. Where can you get B12 in food? Shellfish, mackeral, liver, fortified cereals, red mean, skim milk, cheese and eggs. The B vitamins can be found in dark leafy greens, fortified cereals, lentils, nuts, milk, eggs and fish (among other foods - each has varying levels of the different B vitamins - folate, B6, niacin, riboflavin, and thiamin).
In menopause the hormone fluctuations go away.
There is less of a need for carbohydrate supplementation and more of a need to protein both pre and post workout. Menopause can last anywhere from 2 to 10 years and start as early as age 40! And to make it more complicated every woman experiences different symptoms and effects of menopause and at different rates!
When you are
perimenopausal
(before your periods actually cease) estrogen concentrations can vary greatly. Once you have gone 3 months without a period your estrogen levels will have dropped. Loss of muscle mass will occur if strength training is not undertaken. Weight gain tends to affect women after menopause, but in some cases it is due to reduced activity. Athletes should celebrate because exercise will counteract some of the downsides (weight gain, lost muscle mass, body composition changes, and increased LDL - bad cholesterol).
Night sweats can cause an
imbalance in electrolytes,
so you'll need to pay attention to magnesium, potassium and sodium. Insomnia is often reported by women and many say melatonin works well. Many women tend to follow fad diets and cut out major food groups. Milk has become a taboo product for some women. Calcium is greatly needed by menopausal women to help build bone strength. Running alone will not continue to keep our bones strong enough to run until we are 100. Sadly there is very little research on menopausal athletes. Anecdotal evidence says that performance decreases, but is that because the athletes are tired, weaker and feel like they shouldn't be as fast or as strong. Let's get some research done here!
What about hormone replacement therapy?
There is a thread on
Slowtwitch
where women rave about HRT. Some feel it helps with maintaining muscle mass, energy and performance. Others say don't mess with mother nature. It is best to consult a variety of medical professionals to help make this decision.
It is amazing how little research is done on female athletes and how much has been done on whether athletes have a bigger or smaller index finger to ring finger ratio (again done primarily on men!). We have a long ways to go, but as the Virginia Slims ads always said "
you've come a long way baby
". Only those going through menopause will remember this tagline!