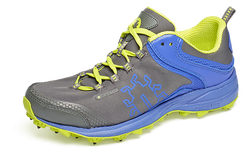 Winter is here along with snow and soon ice on the roads and paths.
So what should you wear on your feet?
The goal is to keep warm and dry without sacrificing your form and speed. Luckily there are a lot of options on the market these days.
GTX
after the shoe name means Gore-Tex which equates to water resistant. Almost all the companies offer a GTX option. Brooks makes the Adrenaline and the Adrenaline GTX. ASICS makes the GEL-Cumulus in both as well. You might be able to find your shoe with a GTX option. You will pay more, but for warm and dry feet it is usually worth the extra $15 or so.
A lot of the
trail shoe
companies are in the market now as well. Northface, Vasque, Montrail, Merrill and Salomon all offer running options. Many are getting a lot lighter now as well.
So what do you look for in a winter running shoes?
The upper construction. You want something water resistant that will not let melting snow seep into your shoe. (that means GTX or another material that will repel). You want to pay close attention to the bottom of the shoe and the construction of the lugs. A more spiky or open lug tread will give you more traction in slippery snow conditions. This is where the trail companies have expertise, so compare bottoms before buying.
Yaktrax
are an option if you are out in the snow and ice a lot. They make a variety of models for running, walking, and snow. If you don't want to shell out the cash for a specific shoe then this would be a great $40 investment.
There are also do it yourself options - like the
'screw shoe' .
If you want the shoe company to put in the screws for you then take a look at the
Icebug Aurora BUGrip
for $180 (pictured above). Can't say I have heard of the manufacturer, but the Swedish company makes it for runners who want speed in slippery conditions. Hmmm this might be the right option for winter track workouts! They actually have quite a range of options for your type of running, location and temperatures. The closest store to Albany NY is up at High Peaks in Lake Placid.
The
Snow Machine
from Salomon (pictured below) looks like a basketball shoe made for running! From the reviews it really is best on snow and ice, not the pavement. So if we end up with snow on the ground for months it might be a good $200 investment. And if you head over to their website today they are on sale for
$140!
There you will see a number of other options as well.
So now no excuses for getting out there in the cold, snowy, wet conditions of winter 2016. Happy running.
What are your favorite winter run shoes?
I really want to try the Icebug and Salomon myself!